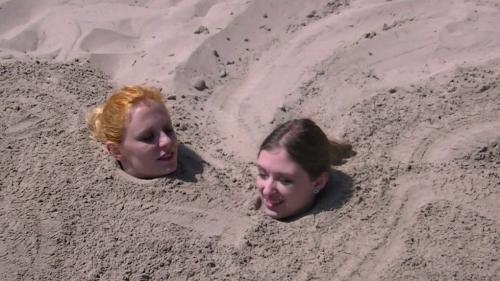 Starring these models:
"Who Can We Get to Bury Us in the Sand Together?"
Brunette Roxanne wearing a black two piece and Redhead Clayra Beau wearing a red two piece swimsuit are at the beach and dare each other to be buried in the sand. They cannot decide who will be buried first so they go off on a quest to find someone to bury them together. They quickly find a beachcomber who is more then willing. After they get in a hole in the sand they already dug he slowly covers them up all the way to their chins. He tells them to have fun and leaves them both up to their chins in the sand. They then both realize then that there is no one to dig them out and have to wait for someone to come along.
| | |
| --- | --- |
| File count: | 1 |
| Total size: | 361.41 MB |
| Total runtime: | 8 mins, 16 secs |
| Date added: | 3/16/14 |
| Year produced: | 2014 |
| Views: | 4830 |
| Scene ID: | 9657 |

$8.00
Includes this file:
bff_buried_friends_forever_mpeg-4_720p_367mb.mp4

1280x720

6,103 Kbps

361.41 MB

8.3 minutes

Report